Grandmaster Joe Sheya Memorial
April 23, 1949 - September 12, 2014
Eulogy
Oh My Joseph
I come from a long line of criers… Joe always worried when I cried in public that people would think it was something he did, I never believed him until one day a waitress offered to call 911, ok… so I believed him then... I am sorry, here I stand, I will cry now, tomorrow, and for a long long time to come… and yes Joe, this time it is something you did.
Oh My Joseph
How can someone so full of energy, so full of life, so full of love be so suddenly gone? On Friday he got his diving gear ready for his trip to the quarry, he laughed as he put the tutu on his head that he had bought for his precious Granddaughter Emma, he taught his Hapkido class, and he went to Big Owls, he called me to say it was cool out, he was fine and he loved me. His heart failed him, he was gone.
So my dear Joe, now this IS All About You! Who was this precious dear man that we have come together today to celebrate and honor. Answering that requires a long list. He was an enthusiastic and caring teacher in the Anne Arundel County Public Schools for over 30 years. He was a Reiki Master. He was a GrandMaster, he was a boater, diver, biker, cyclist, student pilot, competitive shooter, weight lifter, a husband, father, a grandfather, godfather, brother, a friend….. he was a good guy…. and he was a bad guy… bad to the bone.
Anyone who has not experienced Joe's "White Belt Thumb" in his Hapkido class, let me explain… If you asked Joe a 'what if" question' if you had a moment of doubt of the effectiveness of Hapkido…. Joe would explain… with such a kind and smiling face… that he was just going to use just one thumb, to show how Hapkido might work… then as you lay writhing on the floor and Joe was telling you, don't worry I'm only using about %10 force… he would be explaining to the rest of the class that had by now circled around to watch the education of the white belt, exactly what his technique was and you say a little prayer that the lesson will end quickly.
Actually, He was an amazing, gifted and loving martial artist. His aim was never to hurt anyone but to teach people to defend themselves, by both protecting themselves and protecting the attacker. To walk through Joe's Do Jang doors was to start as a student, become a friend, and end up as family. His large beautiful Hapkido family was such an enormous part of what made his life a good life. Joe had many families, his Hapkido family of course, his diving, riding and shooting families and because Joe was so good at sharing his love of adventure, many of these families overlapped. There are a number here that are, gun shooting, motorcycle riding, weightlifting, Reiki Master, SCUBA diving, Hapkidoists …. it was so hard to resist Joe's enthusiasm and passion for life and adventure. To all of you… I say your friendship, love and respect of this man touched him deeply and so I thank you for that gift.
Joe was so strong, both physically and spiritually. He was not without fear, but that never stopped him… he was the most courageous person I have ever met. Whether it was to step in to protect a friend or even a stranger, or dealing with heartache, someone else's or his own, jumping out into the sky or diving to the depths, or driving down the Florida Turnpike during rush hour with our boat on fire in the back, he just calmly moved forward and did what he had to do.
Was there another side of Joe?... Maybe a little bit stubborn, maybe occasionally cranky? No, you don't think so? He was a story teller, to know Joe was to hear many stories of the many many adventures of his life. An extrovert? … There has to be a better word for someone who can walk into a grocery store and by the time he leaves be friends with the cashier, the bagger and the lady in line behind him. Opinionated? Let's just say he knew exactly want he did and did not want. But.. what he wanted most was to surround himself with the things and people he loved… and that he did.
To know Joe, to know Papi, you need to know the love and joy that his family brought into his life. He loved his brothers and sisters, Robert and Pam. He loved his pretty younger brother, confidant and dive buddy George and they both shared a love of nature with their sister Kathy and proudly displayed her beautiful nature photographs. His Godson Trevor was one of his favorite people and always felt joyful to be with him, just as he did being with Trevor's dear father Pat. It was Joe's honor to perform the wedding ceremony (s) for Wanda and Trevor. He also had the honor to unite Reyadh and Katie and Evan and Lindsay... He adored these four and was so proud of them for the adults they have become and what they have already accomplished in their young lives. He loved to share his knowledge with his family. His daughter Lindsay got her shooting lesson and oh my… that brought a smile to her face, Reyadh participated in Hapkido, Katie and Reyadh got their SCUBA certification, Evan enjoyed his boating experiences with Joe, and although Evan made the unwise decision to practice Judo instead of Hapkido, Joe was so proud of his dedication and his gold medal. He was so looking forward to the birth of his two new grandchildren and the thought of his growing family. He was already so in love with his dear children and Granddaughter it was a joy for him to ponder the possibility of more. So much of all of our sadness is how much Papi will be missed and how their lives will not be enriched by his presence. What gives us so much consolation, however, is the amazing light his Granddaughter Emma brought into his life these last two years. Anyone who had to sit for hours looking at pictures and hearing Papi's stories of his Emma knows this. How is it possible that 24 pounds of cuteness can have complete control of a 220 pound Hapkido GrandMaster? But that she did. He was never lighter, never more joyful than he was when he was with his Emma.
I received a call this week from someone I have never even met, he said Joe was his Hero. Men have come to me to say Joe changed the course of their lives. I would feel proud if I had changed the life of one person, it is incalculable how many lives Joe has changed for the better. He was always there for anyone who needed him. Joe taught us all how to be stronger, more loving people. He was such a huge, warm, loving powerful energy. He was a force. He was, to quote his friend, an amazing soul.
Oh My Joe
An amazing soul indeed! Did his heart fail him, I believe it did not. Do not each of us hold a part of that beautiful heart deep in our own? To know Joe was to be given a piece of that heart. My partner, my love, my chef, my bodyguard, my best friend, my soul mate my hero…. my heart. A powerful man, a powerful soul and yes a most powerful heart.
Joe and I looked at each other regularly, smiled and said… "we got lucky" Yes, we did. Joe loved me… A LOT…. I loved Joe…. A LOT. We almost always fell asleep together holding hands…. My Dearest Joe, Until we meet again, May God Hold You in The Palm of His Hand.
Carol McDermott Sheya
May the Road Rise to Meet You
May the Wind be Always at Your Back
May the Sun Shine Warm Upon Your Face
The Rain Fall Soft Upon Your Fields
And until we meet again
May God Hold You In the Palm of His Hand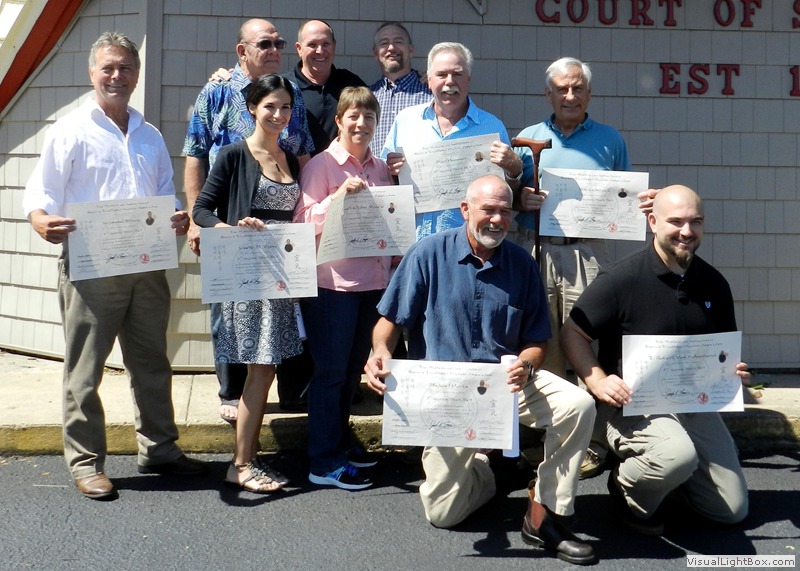 ---