Larry Cambell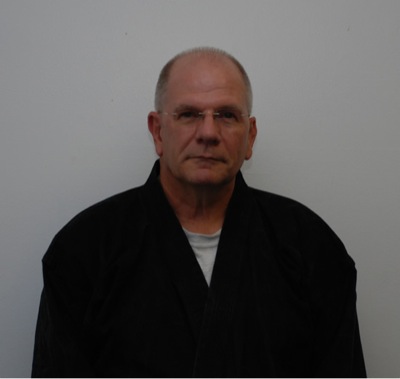 Larry Campbell was born in Washington, DC. He moved to the Eastern Shore in 1987. Larry was introduced to Joe Sheya and traditional Hapkido by two of Joe's students in 1991. Larry had a background in boxing and wrestling. He earned his first degree black belt and Black Arrow Society designation in May 2000. He was promoted to second degree black belt in November, 2007 and then to third degree black belt in April, 2014. Larry aided Paul Hummer in teaching traditional Hapkido at Martial Arts United from 2001 until the fall of 2010. From the fall of 2011 until the present Larry is teaching Hapkido with Rob Leimbach in Ocean Pines, MD.
At first, Larry saw Hapkido as a stress buster, a good workout where one learned self defense in a very social setting. Larry says, "Hapkido offers the opportunity for life changing behavior. In Hapkido we learn to accept another person's energy and often times the less you do the better the results in addressing a problem or a threat. More importantly, Hapkido teaches respect, tolerance, humility and compassion. I believe Hapkido has helped me become a better person."
Larry retired from the Anne Arundel County Public Schools in 2000. He was a financial advisor with AIG Retirement until the fall of 2010, when he retired to Ocean City, MD. His other interests include golf, reading, kayaking and travel.