Ed Senft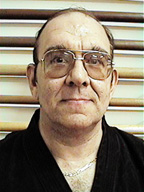 Ninth degree black belt and chief instructor of the Main school, Ed Senft was born and raised in Washington, DC. Ed began studying Hapkido in 1983, and was promoted to black belt on 17 May 1986. He has been an instructor at Sheya's Hapkido ever since and teaches the Monday night class. On April 4th 2009 he was promoted to ninth degree black belt.
Ed's hobbies include playing or watching most sports. He also spends a lot of time interacting with his four children and seven grandchildren. In fact, he discovered Hapkido through his involvement with his family.
Ed was an assistant coach for his youngest daughter's soccer team. Another assistant coach, a friend of Ed's oldest daughter, was taking Hapkido. Ed was always interested in martial arts but, for various reasons, never pursued that interest. One day Ed went with the other coach to check out Hapkido. Since then, Ed has been on the path to the martial way.
"I felt comfortable with the class, which is amazing because Hapkido was 180 degrees from what I imagined martial arts to be. Everything I'd done had been strength oriented which is not true of Hapkido.... The biggest benefit I derived from Hapkido is the calmness and inner peace which has helped me deal with many situations in my life."